HOME
BIOGRAPHY
BOOKINGS
GUITARS
CATALOGUE: ABSTRACTION BY PROXY
ARTIST: John Hood
TITLE: Abstraction by Proxy
CAT #: JH004
DATE: 23/10/03
PRICE: $20.00

This album is mainly a collection of spontaneous improvisations over the work of other artists.

Most of my guitar parts were recorded after the event, in my home studio. In attempting to achieve spontaneity, I intentionally didn't listen to them before recording. Therefore, they are my reactions to the music and sounds as they unfold. They are all first takes.

Track 3 is an excerpt from a day spent recording guitar and drum improvisations with Al Kash.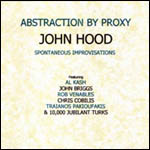 TRACKLISTING (MP3 excerpts underlined)

1. J. Briggs/T. Pakioufakis, The Winning Feeling (11:03)
2. Feldman, Morton In Wonderland (15:38)
3. Al Kash, Untitled Improvisation* (12:07)
4. Chris Cobilis, Abstraction by Proxy (25:04)

© Copyright 2005 www.jhredguitar.com