HOME
BIOGRAPHY
BOOKINGS
GUITARS
CATALOGUE: IN THE SKY/A LIVE ANTHOLOGY
ARTIST: John Hood / Various Artists
TITLE: In the Sky / A Live Anthology
CAT #: JH005
DATE: 25/11/03
PRICE: $20.00

A live anthology of my work in bands from 1971 through 2001. The music ranges from straight Chicago blues, 70's fusion/improvisation, intimate acoustic performances to my more recent experiments with improvised instrumentals. There are many fine players on this album.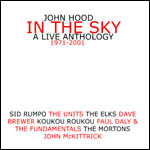 TRACKLISTING (MP3 excerpts underlined)

1. Sid Rumpo - Mellow Down Easy
2. The Units - Flute Groove
3. The Units - For Susie Unkovich
4. The Elks - She's Into Something
5. The Elks - Change
6. Dave Brewer & JH - Footprints
7. Dave Brewer & JH - Praise
8. Koukou Roukou Trio - Koukou Roukou
9. Koukou Roukou Trio - In the Sky
10. Paul Daly & the Fundamentals - Last Night
11. Paul Daly & the Fundamentals - Giverny Blues
12. Paul Daly & the Fundamentals - The Reap
13. The Mortons - Barracudas
14. John McKittrick & JH - Let Me Down Easy

© Copyright 2005 www.jhredguitar.com